Boreal 55
---
7

/ 105 - score 68%
The Boreal 55 is a 53.81ft cutter designed by Jean-François Delvoye and built in aluminum by Boréal SARL (FRA) since 2016.
The Boreal 55 is a light sailboat which is a high performer. It is not stiff and has a good righting capability if capsized. It is best suited as a fast cruiser. The fuel capacity is excellent. There is an excellent water supply range.
This boat has a reasonable score and ranks in the top quarter. It is a good choice.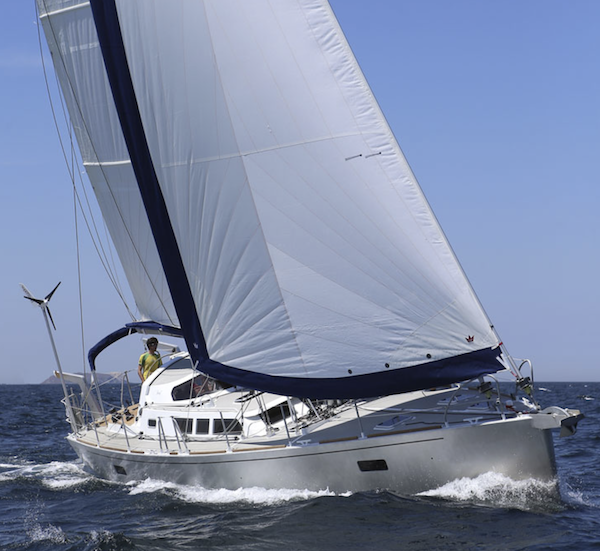 Boreal 55 for sale elsewhere on the web:
Main features 78%
---
| | | | |
| --- | --- | --- | --- |
| Model | Boreal 55 | | |
| Length | 53.81 ft (100%) | above 32.81 ft | |
| Beam | 15.26 ft | | |
| Draft | 3.74 ft (55%) | lowest under 6.56 ft | |
| Country | France (Europe) | | |
| Estimated price | $ 0 | | ?? |
Ratios 46%
---
| | | | |
| --- | --- | --- | --- |
| Sail area / displ. | 20.48 (59%) | highest | |
| Ballast / displ. | 29.09 % | | |
| Displ. / length | 174.23 | | |
| Comfort ratio | 31.17 (32%) | highest | |
| Capsize | 1.85 | | |
Hull 100%
---
| | | | |
| --- | --- | --- | --- |
| Hull type | Monohull twin daggerboards | | |
| Construction | Aluminum | alu + steel + acier | |
| Waterline length | 45.34 ft | | |
| Maximum draft | 10.27 ft | | |
| Displacement | 36376 lbs | | |
| Ballast | 10582 lbs | | |
| Hull speed | 9.02 knots | | |
Rigging
---
| | | | |
| --- | --- | --- | --- |
| Rigging | Cutter | | |
| Sail area (100%) | 1399.31 sq.ft | | |
| Air draft | 0 ft | | ?? |
| Sail area fore | 0 sq.ft | | ?? |
| Sail area main | 0 sq.ft | | ?? |
| I | 0 ft | | ?? |
| J | 0 ft | | ?? |
| P | 0 ft | | ?? |
| E | 0 ft | | ?? |
Engine 44%
---
| | | | |
| --- | --- | --- | --- |
| Nb engines | 1 | | |
| Total power | 75 HP | | |
| Fuel capacity | 232 gals (44%) | highest | |
Accommodations 89%
---
| | | | |
| --- | --- | --- | --- |
| Water capacity | 388 gals (89%) | highest | |
| Headroom | 0 ft | | |
| Nb of cabins | 0 | | |
| Nb of berths | 0 | | |
| Nb heads | 0 | | |
Builder data
---
| | | | |
| --- | --- | --- | --- |
| Builder | Boréal SARL (FRA) | | |
| Designer | Jean-François Delvoye | | |
| First built | 2016 | | |
| Last built | 0 | | ?? |
| Number built | 0 | | ?? |