Vik 165
---
9

/ 134 - score 53%
The Vik 165 is a 53.1ft masthead sloop designed by Erik Lerouge and built in fiberglass sandwich - infused pvc foam by Divers Français since 2004.
3 units have been built.
It accomodates 9 people in 4 cabins plus salon.
The Vik 165 is an ultralight sailboat which is a very high performer.
This boat has an average score but ranks in the top quarter. It seems difficult to do much better. It is one of the best possible tradeoff for this request.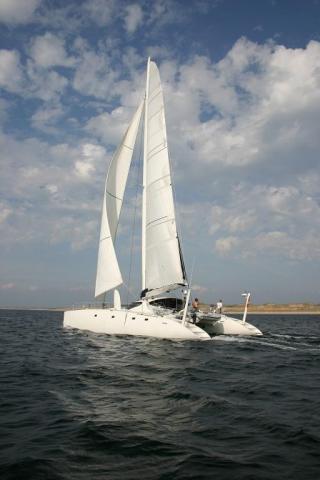 Vik 165 for sale elsewhere on the web:
Main features 100%
---
| | | | |
| --- | --- | --- | --- |
| Model | Vik 165 | | |
| Length | 53.10 ft (100%) | above 40 ft | |
| Beam | 29.20 ft | | |
| Draft | 1.10 ft (100%) | lowest | |
| Country | France (Europe) | | |
| Estimated price | $ 0 | | ?? |
Ratios 35%
---
| | | | |
| --- | --- | --- | --- |
| Sail area / displ. | 46.46 (35%) | highest | |
| Ballast / displ. | 0 % | | |
| Displ. / length | 58.44 | | |
| Comfort ratio | 6.39 | | |
| Capsize | 4.33 | | |
Hull 70%
---
| | | | |
| --- | --- | --- | --- |
| Hull type | Catamaran twin daggerboard | catamaran | |
| Construction | Fiberglass sandwich - Infused PVC foam | | |
| Waterline length | 53.10 ft | | |
| Maximum draft | 9.30 ft | | |
| Displacement | 19600 lbs | | |
| Ballast | 0 lbs | | |
| Hull speed | 9.76 knots (39%) | highest | |
Rigging
---
| | | | |
| --- | --- | --- | --- |
| Rigging | Masthead Sloop | | |
| Sail area (100%) | 2110 sq.ft | | |
| Air draft | 78.40 ft | | |
| Sail area fore | 721 sq.ft | | |
| Sail area main | 1250 sq.ft | | |
| I | 0 ft | | ?? |
| J | 0 ft | | ?? |
| P | 0 ft | | ?? |
| E | 0 ft | | ?? |
Engine
---
| | | | |
| --- | --- | --- | --- |
| Nb engines | 2 | | |
| Total power | 100 HP | | |
| Fuel capacity | 0 gals (0%) | highest | |
Accommodations
---
| | | | |
| --- | --- | --- | --- |
| Water capacity | 0 gals (0%) | highest | |
| Headroom | 6.70 ft | | |
| Nb of cabins | 4 | | |
| Nb of berths | 9 | | |
| Nb heads | 0 | | |
Builder data
---
| | | | |
| --- | --- | --- | --- |
| Builder | Divers Français | | |
| Designer | Erik Lerouge | | |
| First built | 2004 | | |
| Last built | 0 | | ?? |
| Number built | 3 | | |