Vagabond 39
---
5

/ 28 - score 55%
The Vagabond 39 is a 39.0ft cutter designed by Ron Amy and built in fiberglass by Blue Water Yacht Builders Ltd. (TAIWAN) since 1984.
The Vagabond 39 is a heavy sailboat which is slightly under powered. It is stable / stiff and has an excellent righting capability if capsized. It is best suited as a heavy bluewater cruising boat. The fuel capacity is good. There is a good water supply range.
This boat has an average score but ranks in the top quarter. It seems difficult to do much better. It is one of the best possible tradeoff for this request.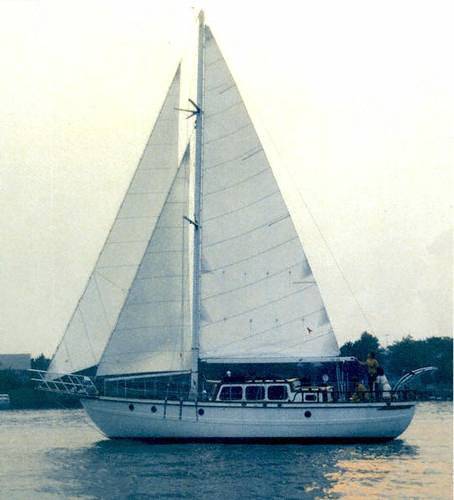 Vagabond 39 for sale elsewhere on the web:
Main features 46%
---
| | | | |
| --- | --- | --- | --- |
| Model | Vagabond 39 | | |
| Length | 39 ft (69%) | the closest to 37.92 ft | |
| Beam | 11.50 ft (23%) | the closest to 12.33 ft | |
| Draft | 5.58 ft | | |
| Country | Taiwan (Asia) | | |
| Estimated price | $ 0 | | ?? |
Ratios 81%
---
| | | | |
| --- | --- | --- | --- |
| Sail area / displ. | 15.86 (86%) | the closest to 15.64 | |
| Ballast / displ. | 37.45 % | | |
| Displ. / length | 366.87 | | |
| Comfort ratio | 42.42 (76%) | the closest to 43.44 | |
| Capsize | 1.61 | | |
Hull 19%
---
| | | | |
| --- | --- | --- | --- |
| Hull type | Monohull long keel | | |
| Construction | Fiberglass | | |
| Waterline length | 30.58 ft (19%) | the closest to 33 ft | |
| Maximum draft | 5.58 ft | | |
| Displacement | 23500 lbs | | |
| Ballast | 8800 lbs | | |
| Hull speed | 7.41 knots | | |
Rigging
---
| | | | |
| --- | --- | --- | --- |
| Rigging | Cutter | | |
| Sail area (100%) | 810 sq.ft | | |
| Air draft | 0 ft | | ?? |
| Sail area fore | 0 sq.ft | | ?? |
| Sail area main | 0 sq.ft | | ?? |
| I | 0 ft | | ?? |
| J | 0 ft | | ?? |
| P | 0 ft | | ?? |
| E | 16.50 ft | | |
Engine
---
| | | | |
| --- | --- | --- | --- |
| Nb engines | 1 | | |
| Total power | 0 HP | | |
| Fuel capacity | 110 gals | | |
Accommodations
---
| | | | |
| --- | --- | --- | --- |
| Water capacity | 150 gals | | |
| Headroom | 0 ft | | |
| Nb of cabins | 0 | | |
| Nb of berths | 0 | | |
| Nb heads | 0 | | |
Builder data
---
| | | | |
| --- | --- | --- | --- |
| Builder | Blue Water Yacht Builders Ltd. (TAIWAN) | | |
| Designer | Ron Amy | | |
| First built | 1984 | | |
| Last built | 0 | | ?? |
| Number built | 0 | | ?? |