Stiletto 30
---
8

/ 66 - score 78%
The Stiletto 30 is a 29.33ft frac. sloop (rotating spar) designed by Peter Wormwood and built in fiberglass with kevlar by Stiletto Catamarans (Force Engineering) since 1982.
The Stiletto 30 is an ultralight sailboat which is a very high performer.
This boat has a good score and ranks in the top quarter. It is an excellent choice.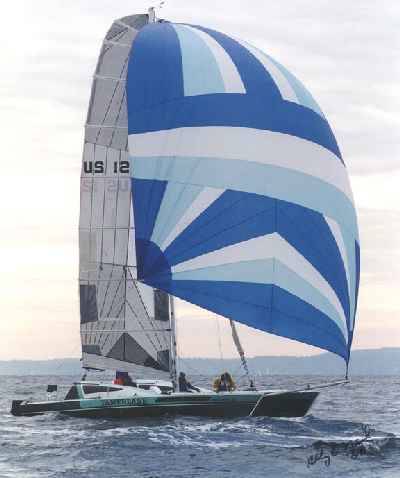 Stiletto 30 for sale elsewhere on the web:
Main features 100%
---
| | | | |
| --- | --- | --- | --- |
| Model | Stiletto 30 | | |
| Length | 29.33 ft (100%) | under 30 ft | |
| Beam | 17.83 ft | | |
| Draft | 0.90 ft | | |
| Country | United states (North America) | | |
| Estimated price | $ 0 | | ?? |
Ratios 52%
---
| | | | |
| --- | --- | --- | --- |
| Sail area / displ. | 39.12 (19%) | highest | |
| Ballast / displ. | 0 % | | |
| Displ. / length | 48.54 (85%) | lowest | |
| Comfort ratio | 2.54 | | |
| Capsize | 5.57 | | |
Hull 93%
---
| | | | |
| --- | --- | --- | --- |
| Hull type | Catamaran twin daggerboard | catamaran | |
| Construction | Fiberglass with kevlar | | |
| Waterline length | 26.83 ft | | |
| Maximum draft | 4 ft | | |
| Displacement | 2100 lbs | | |
| Ballast | 0 lbs | | |
| Hull speed | 6.94 knots (86%) | highest | |
Rigging
---
| | | | |
| --- | --- | --- | --- |
| Rigging | Frac. Sloop (Rotating Spar) | | |
| Sail area (100%) | 400 sq.ft | | |
| Air draft | 0 ft | | ?? |
| Sail area fore | 0 sq.ft | | ?? |
| Sail area main | 0 sq.ft | | ?? |
| I | 0 ft | | ?? |
| J | 0 ft | | ?? |
| P | 0 ft | | ?? |
| E | 0 ft | | ?? |
Engine
---
| | | | |
| --- | --- | --- | --- |
| Nb engines | 1 | | |
| Total power | 0 HP | | |
| Fuel capacity | 0 gals | | |
Accommodations
---
| | | | |
| --- | --- | --- | --- |
| Water capacity | 0 gals | | |
| Headroom | 0 ft | | |
| Nb of cabins | 0 | | |
| Nb of berths | 0 | | |
| Nb heads | 0 | | |
Builder data
---
| | | | |
| --- | --- | --- | --- |
| Builder | Stiletto Catamarans (Force Engineering) | | |
| Designer | Peter Wormwood | | |
| First built | 1982 | | |
| Last built | 0 | | ?? |
| Number built | 0 | | ?? |