Ingrid 38
---
7

/ 96 - score 83%
The Ingrid 38 is a 37.99ft cutter designed by William Atkin and built in wood or fiberglass by Blue Water Boats Inc. (USA) between 1938 and 1985.
140 units have been built.
The Ingrid 38 is a heavy sailboat which is slightly under powered. It is reasonably stable / stiff and has an excellent righting capability if capsized. It is best suited as a heavy bluewater cruising boat.
This boat has a good score and ranks in the top quarter. It is an excellent choice.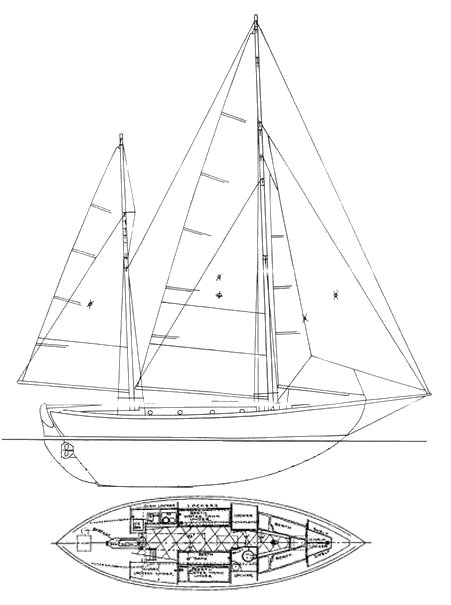 Ingrid 38 for sale elsewhere on the web:
Main features 100%
---
| | | | |
| --- | --- | --- | --- |
| Model | Ingrid 38 | | |
| Length | 37.99 ft (100%) | under 41 ft | |
| Beam | 11.32 ft | | |
| Draft | 5.68 ft | | |
| Country | United states (North America) | | |
| Estimated price | $ 0 | | ?? |
Ratios 58%
---
| | | | |
| --- | --- | --- | --- |
| Sail area / displ. | 14.92 (14%) | highest above 14 | |
| Ballast / displ. | 30.77 % | | |
| Displ. / length | 354.22 | | |
| Comfort ratio | 46.88 (95%) | highest | |
| Capsize | 1.53 (66%) | lowest under 2 | |
Hull 96%
---
| | | | |
| --- | --- | --- | --- |
| Hull type | Monohull long keel | long | |
| Construction | Wood or fiberglass | | |
| Waterline length | 31.99 ft | | |
| Maximum draft | 5.68 ft | | |
| Displacement | 25992.47 lbs | | |
| Ballast | 8002.77 lbs | | |
| Hull speed | 7.58 knots (91%) | highest | |
Rigging
---
| | | | |
| --- | --- | --- | --- |
| Rigging | Cutter | | |
| Sail area (100%) | 815.04 sq.ft | | |
| Air draft | 0 ft | | ?? |
| Sail area fore | 0 sq.ft | | ?? |
| Sail area main | 0 sq.ft | | ?? |
| I | 0 ft | | ?? |
| J | 0 ft | | ?? |
| P | 0 ft | | ?? |
| E | 0 ft | | ?? |
Engine
---
| | | | |
| --- | --- | --- | --- |
| Nb engines | 1 | | |
| Total power | 0 HP | | |
| Fuel capacity | 0 gals | | |
Accommodations
---
| | | | |
| --- | --- | --- | --- |
| Water capacity | 0 gals | | |
| Headroom | 5.91 ft | | |
| Nb of cabins | 0 | | |
| Nb of berths | 0 | | |
| Nb heads | 0 | | |
Builder data 100%
---
| | | | |
| --- | --- | --- | --- |
| Builder | Blue Water Boats Inc. (USA) | | |
| Designer | William Atkin | | |
| First built | 1938 (100%) | before 1980 | |
| Last built | 1985 | | |
| Number built | 140 (100%) | above 50 | |