Gunboat 55
---
6

/ 134 - score 54%
The Gunboat 55 is a 56.91ft fractional sloop designed by Nigel Irens and built in carbon fiber or composite by Gunboat since 2015.
The Gunboat 55 is an ultralight sailboat which is a very high performer. The fuel capacity is good. There is a short water supply range.
This boat has an average score but ranks in the top quarter. It seems difficult to do much better. It is one of the best possible tradeoff for this request.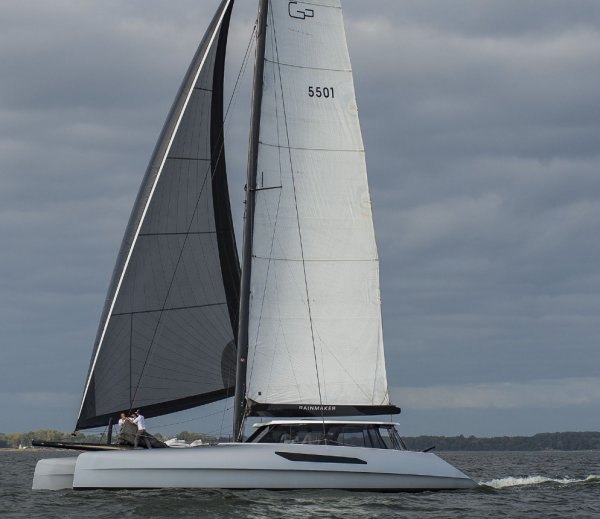 Gunboat 55 for sale elsewhere on the web:
Main features 95%
---
| | | | |
| --- | --- | --- | --- |
| Model | Gunboat 55 | | |
| Length | 56.91 ft (100%) | above 40 ft | |
| Beam | 25 ft | | |
| Draft | 2 ft (90%) | lowest | |
| Country | France (Europe) | | |
| Estimated price | $ 0 | | ?? |
Ratios 27%
---
| | | | |
| --- | --- | --- | --- |
| Sail area / displ. | 36.20 (27%) | highest | |
| Ballast / displ. | 0 % | | |
| Displ. / length | 66.75 | | |
| Comfort ratio | 10.30 | | |
| Capsize | 3.31 | | |
Hull 72%
---
| | | | |
| --- | --- | --- | --- |
| Hull type | Catamaran twin daggerboard | catamaran | |
| Construction | Carbon fiber or composite | | |
| Waterline length | 56.91 ft | | |
| Maximum draft | 9.20 ft | | |
| Displacement | 27558 lbs | | |
| Ballast | 0 lbs | | |
| Hull speed | 10.11 knots (45%) | highest | |
Rigging
---
| | | | |
| --- | --- | --- | --- |
| Rigging | Fractional Sloop | | |
| Sail area (100%) | 2056 sq.ft | | |
| Air draft | 0 ft | | ?? |
| Sail area fore | 0 sq.ft | | ?? |
| Sail area main | 0 sq.ft | | ?? |
| I | 0 ft | | ?? |
| J | 0 ft | | ?? |
| P | 0 ft | | ?? |
| E | 0 ft | | ?? |
Engine 10%
---
| | | | |
| --- | --- | --- | --- |
| Nb engines | 1 | | |
| Total power | 0 HP | | |
| Fuel capacity | 158 gals (10%) | highest | |
Accommodations 7%
---
| | | | |
| --- | --- | --- | --- |
| Water capacity | 98 gals (7%) | highest | |
| Headroom | 0 ft | | |
| Nb of cabins | 0 | | |
| Nb of berths | 0 | | |
| Nb heads | 0 | | |
Builder data
---
| | | | |
| --- | --- | --- | --- |
| Builder | Gunboat | | |
| Designer | Nigel Irens | | |
| First built | 2015 | | |
| Last built | 0 | | ?? |
| Number built | 0 | | ?? |