Fantasia 35 bingham
---
1

/ 8 - score 100%
The Fantasia 35 bingham is a 34.5ft cutter designed by Bruce Bingham and built in fiberglass by Ta Chiao (TAIWAN) since 1976.
78 units have been built.
The Fantasia 35 bingham is a very heavy sailboat which is under powered. It is reasonably stable / stiff and has an excellent righting capability if capsized. It is best suited as a heavy bluewater cruising boat.
This boat has a good score and ranks in the top quarter. It is an excellent choice.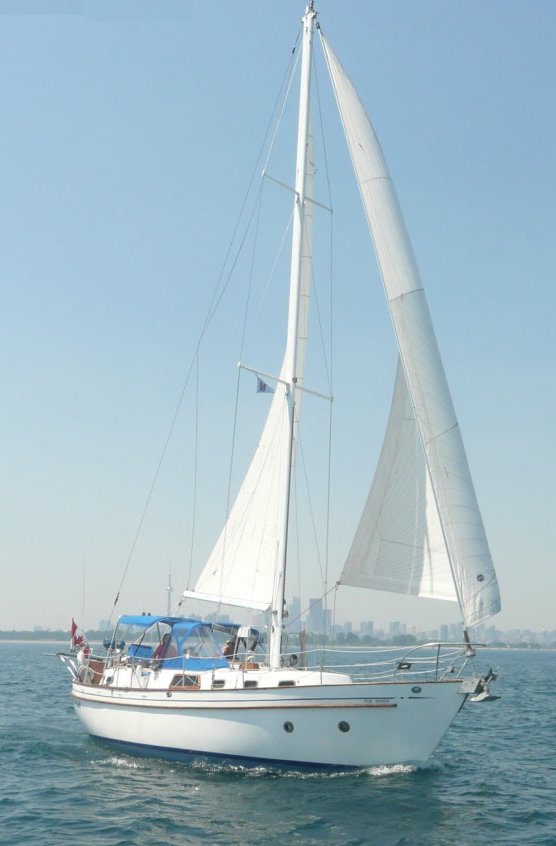 Fantasia 35 bingham for sale elsewhere on the web:
Main features 100%
---
| | | | |
| --- | --- | --- | --- |
| Model | Fantasia 35 bingham | | |
| Length | 34.50 ft (100%) | the closest to 34.50 ft | |
| Beam | 11 ft (100%) | the closest to 11 ft | |
| Draft | 4.67 ft | | |
| Country | Taiwan (Asia) | | |
| Estimated price | $ 0 | | ?? |
Ratios 100%
---
| | | | |
| --- | --- | --- | --- |
| Sail area / displ. | 12.48 (100%) | the closest to 12.48 | |
| Ballast / displ. | 29.55 % | | |
| Displ. / length | 472.26 | | |
| Comfort ratio | 47.12 (100%) | the closest to 47.12 | |
| Capsize | 1.57 | | |
Hull 100%
---
| | | | |
| --- | --- | --- | --- |
| Hull type | Monohull long keel | | |
| Construction | Fiberglass | | |
| Waterline length | 27.50 ft (100%) | the closest to 27.50 ft | |
| Maximum draft | 4.67 ft | | |
| Displacement | 22000 lbs | | |
| Ballast | 6500 lbs | | |
| Hull speed | 7.03 knots | | |
Rigging
---
| | | | |
| --- | --- | --- | --- |
| Rigging | Cutter | | |
| Sail area (100%) | 610 sq.ft | | |
| Air draft | 0 ft | | ?? |
| Sail area fore | 337.96 sq.ft | | |
| Sail area main | 280 sq.ft | | |
| I | 47.60 ft | | |
| J | 14.20 ft | | |
| P | 40 ft | | |
| E | 14 ft | | |
Engine
---
| | | | |
| --- | --- | --- | --- |
| Nb engines | 1 | | |
| Total power | 33 HP | | |
| Fuel capacity | 0 gals | | |
Accommodations
---
| | | | |
| --- | --- | --- | --- |
| Water capacity | 0 gals | | |
| Headroom | 0 ft | | |
| Nb of cabins | 0 | | |
| Nb of berths | 0 | | |
| Nb heads | 0 | | |
Builder data
---
| | | | |
| --- | --- | --- | --- |
| Builder | Ta Chiao (TAIWAN) | | |
| Designer | Bruce Bingham | | |
| First built | 1976 | | |
| Last built | 0 | | ?? |
| Number built | 78 | | |